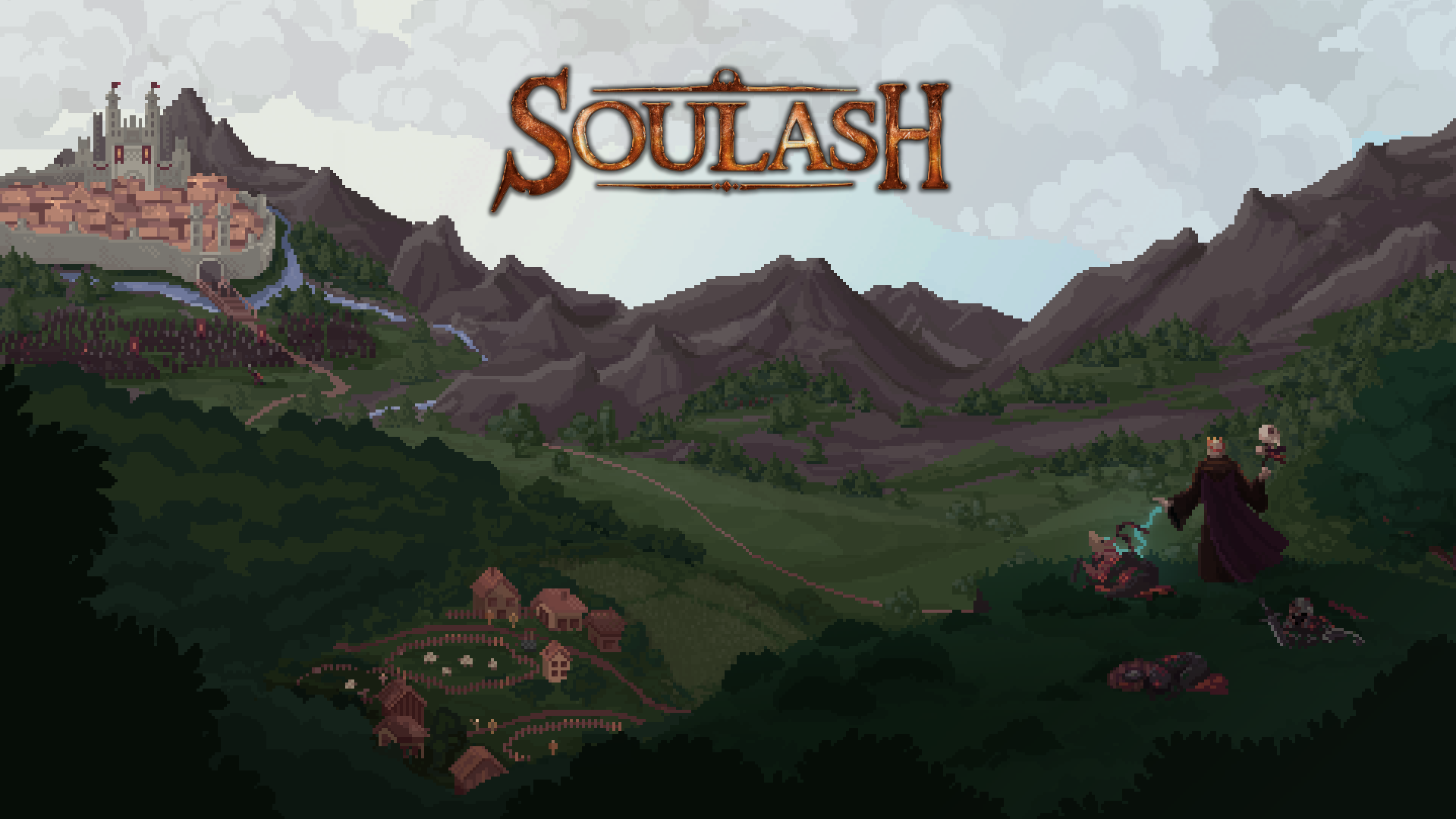 Soulash
Greetings fellow gods,
As there's a lot of questions about where the game is and what needs to happen before we get to the 1.0 release, I've prepared a draft of a roadmap to clarify what's before us.

Where is Soulash now
So starting from where we are. Soulash has been developed over the past 4 years and it's in an alpha state for the past 2. It's available in ASCII only version right now, and we're attempting to gather funds through Kickstarter that would help us finalize the new graphic mod that can be seen in the trailer. The graphics demo was created in 3 months, so there is still a lot of work before us to cover all of the entities, abilities and hopefully, a new GUI that would fit the new style better. For me, Soulash was and always will be a project of passion, as I've already invested over 6000 hours into making this game while working full time, so I didn't expect to trade my time for money with this project. That being said, even though I have the skills to develop any mechanics for the game, I really can't do art at all and I'm not a musician.
That's why I reinvested back all of the income from the game, to make it better, by getting us some assets like music or graphic.
See for yourself, the early versions of Soulash that I made just by myself.
The game came a long way since then. If we reach our Kickstarter goal, that means we can ensure the graphics mod will be finished independently of random situations, like me losing my job. Times are unfortunately still uncertain, but let's look into the future.

Kickstarter ends, what now?
Let's stay positive and assume Soulash gets funded. The first thing that's going to happen is for everyone who picked up a digital copy of the game, I will send an itch key to the alpha version that is in ASCII only. I will then contact everyone to gather information about names they want to be included, items, races, professions, gods, locations, and all of the other content that you chose to design for the core game.

If Soulash is not funded by the 25th of May, nobody is going to be charged and every tier is going to be canceled, unfortunately, Kickstarter is all or nothing. I have some backup ideas, but we'll talk about it if we have to, so for now let's stay positive. There are still 10 days left and ~5k EUR to go. If Kickstarter fails, and the graphics mod is a deal-breaker for you to enjoy Soulash, it will probably be safer to wait for the Steam release.

First major update v0.6 Gods and Miracles
The next major update titled Gods and Miracles is currently in progress. It's planned for July/August 2021 and it will finally bring gods of the new pantheon to hunt you down.
Killing a god will have a major impact on the whole world of Soulash, as you can see below the death of Sangre, the God of Blood turning every river into blood and causing a rain of blood to fall down from the sky.
The miracles are something you will also gain by consuming the soul of a god. It will be very powerful effects that will enable you to cause rainfall, teleport to any known location in the world, and a couple of other unique and powerful effects. Obviously moddable as well.

Any god tier rewards from the Kickstarter campaign will be included in this update and it will come to Itch alpha version, still in ASCII.
If you want to be featured as a god in Soulash and destroy players dreams about world domination, the Kickstarter is your only chance!
We will also include all of the NPC names and tombstones that we will receive from Kickstarter backers in this patch.

Second major update v0.7 Endgame
The last major feature update before stabilizing for the 1.0 release will bring the endgame content and will also be deployed on Itch. I will not go much into details to avoid spoilers, but the goal of this patch is to introduce a win condition into the game, with multiple paths to the end as we have an open world and at least two ways to end the story. The endgame will not be forced and you can get there at your own pace, as I know some of you just want to chill on your skull thrones while farming cabbages and carrots.

The update is planned for the end of 2021 (Nov/Dec most likely).

Closed beta access on Steam
Very soon after v0.7 (1 - 2 weeks), we plan to start a closed beta on Steam with graphics mod and all of the content so far, where we will focus on polishing and stabilizing the game, adding support for Steam Workshop, filling in the story gaps, adding achievements, attempting Linux build, and adding any other improvements that we will receive from players with access.
This stage will not be available on Itch.io, because our main goal here is to prepare for a successful Steam launch. It's important because a solid launch may provide us with enough funds to catapult Soulash development much further or pave the way for a sequel.

At this stage, we will implement all items, races, professions, and locations that players chose to design during the Kickstarter campaign. The reason we'll be doing this here and not sooner is to confirm the end result with everyone involved during the closed beta and have time to iterate if needed.

The closed beta will be available to all of the backers who chose to support us with the appropriate tier on Kickstarter and selected modders that will be willing to help us with polishing the editors and maybe helping us prepare some unofficial goodies at launch.
This stage will last 3 - 6 months, as we don't want to rush it.

Stable version 1.0 launch
Soulash will launch in version 1.0 on Steam and Itch at the same time, between March and June of 2022 with graphics mod and everything else. The exact date will be decided during the closed beta.

Everyone who picked up a digital key tier will receive Steam access on the launch day.

What after the stable release?
We have 2 Kickstarter stretch goals picked by our fellow gods on discord. If we reach them, we will deliver factions 6 months after the 1.0 release and the building system in additional 3 months. You can read more about them in the Kickstarter stretch goals section.
It's a long time before we get there, so we're not going to make plans further just yet. But other things like procedural world generator in a sandbox game mode, servants, or different ability system are possible depending on the success of the game. We might also begin working on a sequel, as we have a cool idea about how the story may continue.

As with all plans, this one might change as well, depending on the outcome of our Kickstarter campaign, or some unpredicted events along the way. But the goals are clear, the timeframe is reasonable, and backed by experience with previous patches of similar size, so I'm confident we will get there.

If you would like to pick up unique rewards for supporting Soulash, there's plenty to chose from in our Kickstarter. We're only missing 40% to get funded and we're 6 days till the end. Help us get all of that new player-designed content and finalize the new graphics mod!
Hope it clarifies where the project is heading and when tier rewards will be delivered, but if you have any more questions, I'm lurking on our discord and happy to answer!
Artur